If Valencia City Council's application for a €105 million grant from European funds is approved, we will be able to say goodbye to Casitas Rosas and many other depleted areas in the near future.
The Spanish government announced in its recently published Recovery And Resilience Plan, which will try to mitigate the effects of the Covid crises with the help of €140 billion in European funds, that €6,8 billion of that money will be used to renovate approximately 500.000 houses and improve their energy efficiency.
The Ministry of Transport, Mobility, and Urban Agenda invited municipalities to submit projects related to building rehabilitation and regeneration, as well as large-scale urban renewal, in the most disadvantaged neighbourhoods or areas, based on their level of income and needs.
Valencia City Council was among the first to respond to this invitation, submitting a comprehensive plan. If approved, Valencia's project will care for the city's most degraded areas, including Casitas Rosas in Malvarrosa and Virgen de los Desamparados in barrio Tres Forques, at a cost of €105 million.
The majority of the buildings that require extensive renovations are part of the social housing programme. Some of these structures were erected in the 1940s in response to postwar demand, while others were built shortly after the 1957 flood. The remainder are from the 1960s. Unlike in other cities, these social housing units were built at random on the outskirts of the city centre.
The social dynamics of the last few decades have seen the transfer of many residents to new developments with more comfortable and accessible housing, leaving people with little economic capacity to deal with the maintenance. According to the City Council document, these areas begin to deteriorate and soon become ghettos inhabited by vulnerable people and at odds with the rest of the neighbourhoods.
The proposed plan, which will be implemented in two phases, will be carried out in eight different barrios. It is expected that 224 buildings and approximately 3.700 apartments will be renovated in total. The project will be overseen by the Department of Housing, which will ensure that the current state of the properties is completely changed.
The work will entail repairing the foundations, roofs, facades, and dividing walls until the apartments meet the bare minimum of habitability, safety, and hygiene. Elevators, stair lifts, and ramps will also be installed to improve accessibility, and special attention will be paid to energy efficiency, with the installation of new heating and cooling systems, generation equipment, and systems that allow the use of renewable energies such as photovoltaic solar energy, biomass, or geothermal energy.
And it won't stop there. The entire area will be redeveloped and remodelled to provide adequate green areas of appropriate dimensions and design, as well as free pedestrian spaces with the removal of architectural barriers.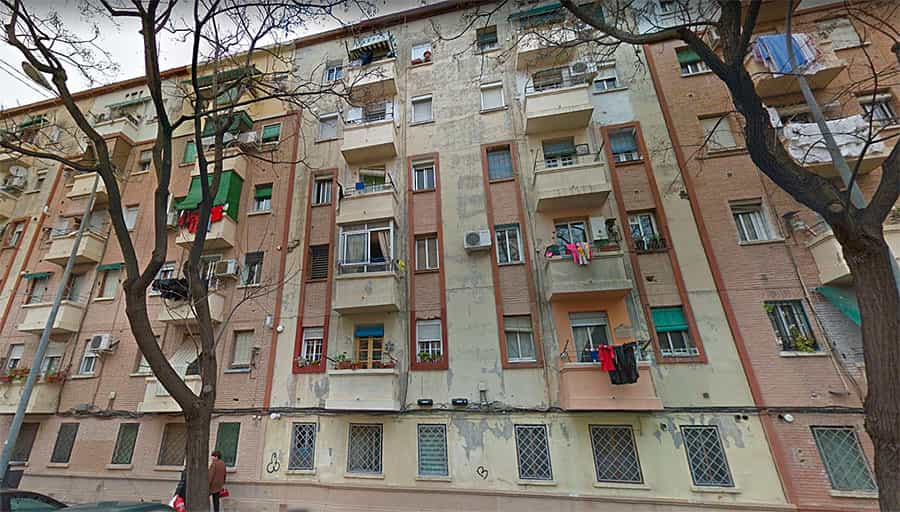 The barrios that will require this type of work are divided into four zones: the eastern zone will include the barrios of Malvarrosa, Beteró, Amistat, Aiora, and Natzaret. Construction will take place in the western barrios of Nou Moles, Llum, and Fuensanta. In the north, Tendetes, Tormos, Marxalenes, Benicalap, Torrefiel, and Orriols will be affected, followed by Torres and San Marcelino in the south.
The first phase will include four areas: Virgen del Carmen-Beteró (built in 1957, with 21 buildings and 667 homes), Calle Yecla-l'Amistat (1952, with two buildings and 475 homes), Polgono de la Fuensanta (1958, with 33 buildings and 975 homes), and the Campanar-Tendetes industrial park (1961, 62 buildings with 580 homes).
The second phase will begin with Casitas Rosas in Malvarrosa (1953-1959, 32 buildings with 255 homes) and will continue with the renovation of the Virgen de los Desamparados area in barrio Tres Forques (1954-1965, 29 blocks with 218 homes), the Ramiro Ledesma group of buildings on Avenida de Burjassot (11 buildings with 84 homes), and in barrio San Marcelino (34 blocks with 435 homes).
It is difficult to predict when the work will begin and whether the plan will be approved at all. What is certain is that Valencia's proposal is consistent with the overall concept of a massive Recovery and Resilience plan that aims to mobilise local industry while altering the energy footprint. Because the funds are expected to arrive in Spain in 2023, if accepted, the plan would have to be implemented quickly, as each project will have a deadline, and it will be closely monitored not only by the Spanish government, but by various EU bodies.
If Valencia's proposal is accepted, it will fit nicely within the Council's larger framework of increasing and caring for social housing in the city. This was one of the ruling coalition's main goals: to balance Valencia's popularity as a business destination for foreign property investors and funds with the needs of the local population, which is slowly but steadily losing market share.
© Goodbye, Casitas Rosas – Valencia Wants To Renovate Its Most Derelict Buildings – Valencia Property
Get some more Developments News like Casitas Rosas
Valencia Property – Inmoamiga is more than just real estate news. Please feel free to browse our site, interact with our bots, and maybe you'll find something else you like.